Having kids is a huge deal; it changes a lot of things about you and not even your house is left out. You now have to childproof everything, making some alterations to ensure the little ones don't get hurt by accident. Childproofing your home involves installing childproofing products and making some temporary design and décor changes to it. For instance, you may have to replace those fancy glass centerpieces with something that is less prone to breaking and has lower chances of cutting your kid. When it comes to childproofing your house, knowing what's important and what isn't might be a problem, particularly for new parents. So we'll be showing you how to childproof your home and make it a sanctuary indeed.
Childproofing against drowning
In 2014, a WHO global report showed that the risk for drowning was highest in 1-4-year-olds. The American Association of Pediatrics also found that 8700 children under 20 had been treated for drowning-related injuries in 2017 alone. These figures are a cause for concern as they're not just numbers but lives. You've probably heard or read stories of kids drowning – you've probably even witnessed one. Whatever the case, we know one thing for sure: you'd rather not relive the experience. So here's some drown-proofing tips for your home:
Secure pool areas or spas with a 4-foot high fence. The fence should be self-closing and latch automatically. You can check out the WaterWarden Pool Fence and D&D MagnaLatch for a start.
Provide flotation devices and life jackets for use in baths and any recreational water activity.
Install doorknob covers and safety locks on bathroom doors to keep the little ones away from tubs, faucets and toilets.
Toilets lid locks keep kids from drowning in toilet water
Keep buckets and other water containers empty or get containers with narrow openings if you need to store water
How to childproof your home against burns
Every year, millions of children are treated for burns in hospitals across the globe and interestingly enough, most of these accidents happened at home. Injuries from burns can be classified into scald fire injury. The former is the most in kids less than 5 years old while the latter is more common in older kids. Here's how to childproof your home against burns, you can: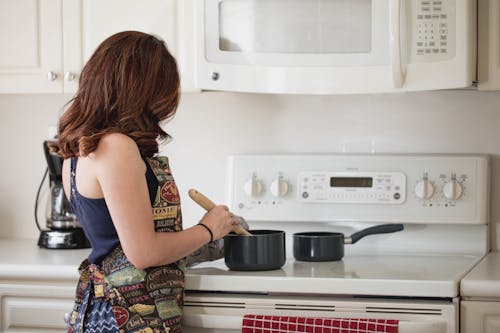 Get knob covers for your stoves to keep your toddler from turning on the stove when you aren't looking. The Safety 1st Knob Covers are good options.
Set your water heater to lower temperatures to prevent burns from hot water.
Cook with the back burners of your stoves and turn the handles of pots away from the front of the stove. This way, your child will be unable to pull hot pot on herself.
Keep flames, matches and lighters out of their reach. Consider replacing traditional candles with battery-operated ones.
Install stove guards and fireplace grates for peace of mind.
Install smoke detectors and ensure that they work well.
Keep microwaves and other kitchen appliances out of their reach.
Childproofing against falls
We're all prone to fall-related injuries but kids, due to their more delicate composition, take these hits the hardest. Falls are common occurrences with kids and the CDC reports that up to 2.8 million kids are treated for fall-related injuries each year and that's just in the United States alone. Let's not forget that instances of objects – say, the TV, a dresser etc. – falling on children are almost as common as kids falling down stairs and chairs. Thankfully, these incidences can be prevented and the following tips will show you how.
Install gates across entries to the stairs, kitchen, garage, yard, garden etc. For staircases, install firmly secured gates at the top and bottom. If you live in a rented space, you can use a pressure-mounted gate so you don't have to drill holes.
Add an extra layer of protection to your windows with guards, stoppers and safety nets to prevent kids from falling through windows.
Install railings, safety nets and guards on balconies.
Secure furniture, appliances and other items that pose a tip-over risk to the wall or floor with straps, brackets and mounts.
Install padded or foam flooring in children's nursery and play area. This will soften impact they do fall.
Use bumpers on furniture with sharp edges to reduce chance of injury when they fall against such furniture.
Childproofing against electrocution
Kids make up about 20% of electrical injuries – and it's not difficult to understand why. Their curiosity may have them investigating power outlets and tasting power cords. Electric shocks can also occur if they happen to be in water with live wires or electrical appliances in it. Reduce the chances of electrocution by:
Installing safety caps or outlet covers on all electrical outlets.
Unplugging hair driers, chargers and any other electrical device in the bathroom to avoid shock hazards.
Ensuring that all outlets are fully covered and that no wires are exposed.
Installing GFCIs (ground floor circuit interrupters). They turn off power if gadgets fall into water
More tips on how to childproof your home:
Get child safety locks for your kitchen cabinets, cupboards, dish washers, fridges etc. This will keep those curious little hands away from potentially harmful items.
Ensure that your kid's toys are age appropriate. Toys with small parts are pose a choking hazard. Our post on toy safety contains more information on this.
Store toys in an open storage bin as children can accidentally lock themselves in toy boxes with lids and suffocate in there.
Where possible replace corded blinds with cordless ones to reduce the risk of strangulation.
Carry out a room-by-room assessment of your house for potential risks and childproof as you go.
We've also discussed how to protect children from dangerous chemicals in your homes. You can read it here. And if you have any child safety questions, check out our post of the topic here.